Annual MBAS BLUES CHALLENGE Semi Final
Event Date: Sunday July 22nd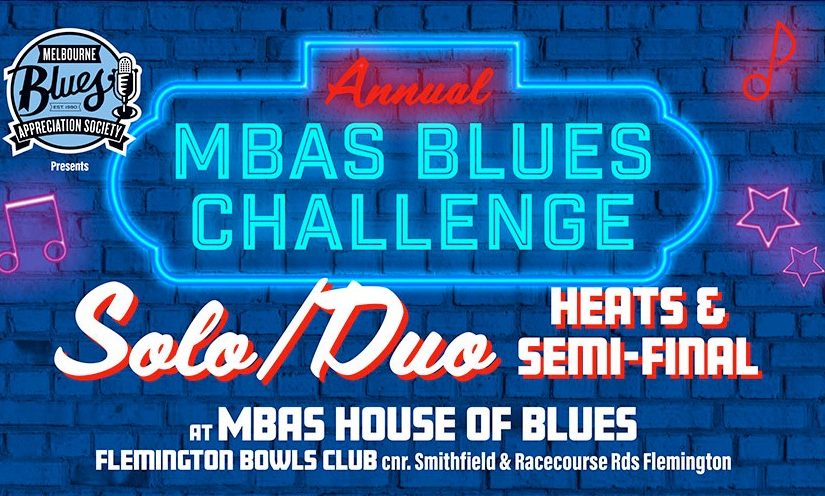 Well done to all 10 Solo/Duo Blues acts who competed over 2 Heats to decide the 6 Semi-Finalists for the Annual MBAS BLUES CHALLENGE: SOLO/DUO Division. Confirming the schedule for the SEMI-FINAL this SUNDAY 22nd JULY and the performance order as drawn:
5:30pm: Doors & Kitchen open
---
6:00pm: The McNaMarr Project
6:40pm: The Leigh Sloggett Duo
7:20pm: Wilson & White
---
7:45pm: Judges' Meal Break
---
8:15pm: Alister Turrill
8:55pm: Joshua Batten
9:35pm: Matt Katsis
---
10:00pm: Scores Tally
10:15pm: 3 x Finalists announced
10:30pm: Finish
NOTE:
Times are approximate pending individual performance finish times.
Each act in the SEMI-FINAL performs a 25 minute set with 15 minute changeovers.
The 3 top-scoring acts from the SEMI-FINAL to perform in the FINAL on Sunday 9th September.
The winning SOLO/DUO act from the FINAL goes to Memphis USA, expenses paid by MBAS – to compete at the International Blues Challenge in the SOLO/DUO Division!
Tickets for all Blues Challenge events (HEATS, SEMI-FINAL & FINAL) are available at the door, or guaranteed seating/table bookings must be pre-purchased online. $25 / $20 (MBAS Members, PBS Subscribers, Concession) See EVENTS page at: www.mbas.org.au