Bowling for Bushfire Relief
Event Date: Sunday Feb 9th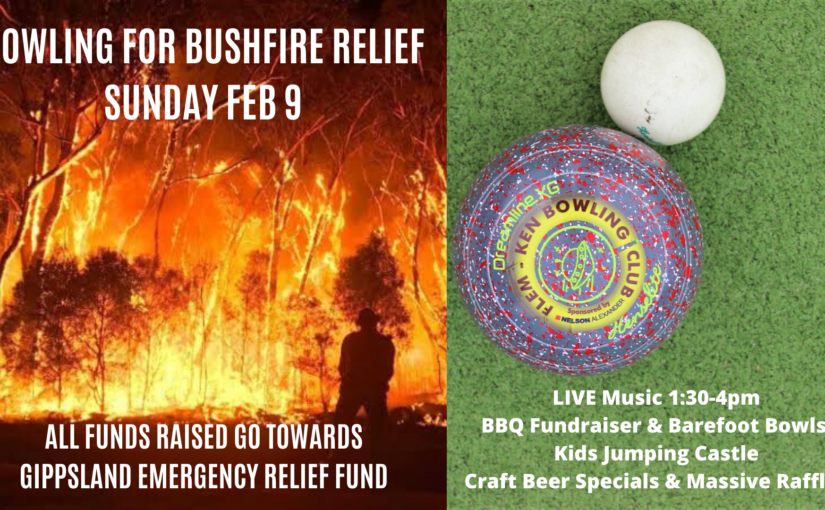 The devastation of the bushfires has touched everyone in some way, shape or form. So on Sunday February 9th Flemington & Kensington Bowling Club will be doing our part in raising much needed funds to support those who need it most from the Gippsland region.
Come down for a fantastic day of bowls, beers, live music, kids entertainment including jumping castle, HUGE raffles, a BIG BBQ and more. All funds raised from green fees, a portion of beer sales the BBQ and the raffles will all go towards the Gippsland Emergency Relief Fund.
The raffle will be massive with many local businesses donating towards the cause. Come and support our fellow Victorian's who have been effected by the devastation of this season's bushfires.
If you would like to donate towards the raffle or to book a rink on the day please contact info@flemkenbowls.com.au
Please share the event with your friends, invite your mates, bring your kids and come down for a great day at Flem-Ken bowls.
About the Gippsland Emergency Relief Fund
The Gippsland Emergency Relief Fund (GERF) is a registered charity that was established in 1978 to provide immediate short-term funds to Gippslanders affected by natural disaster events. It is completely funded by donations from businesses, community groups and individuals. Run by volunteers, all donations are returned to the community.
One of the first responses we have to a bushfire, flood or storm disaster that affects our community, is "how can I help?". Donating to GERF means that your donation can be used to provide immediate financial assistance to Gippslanders when they urgently need it.
In almost 30 years, GERF has readily distributed funds to Gippsland residents who have lost their homes or had their property damaged by a bushfire, flood or storm event.
GERF is a registered charity (No. 66660282945) and is run by volunteers with all donations returned to the community.