Tuesday Blues – DREAMBOOGIE LIVE AUG 22
Event Date: Tuesday 22nd AUGUST 2017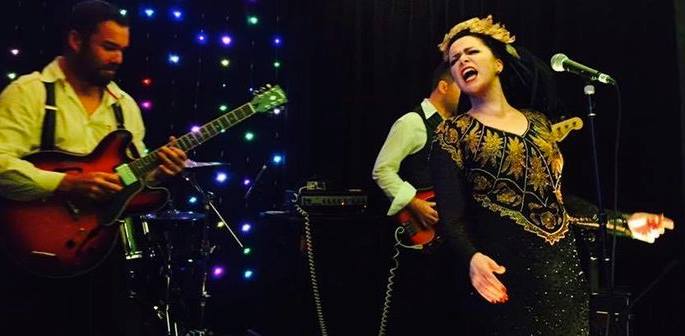 This Week at MBAS 'HOUSE OF BLUES' @ FLEMINGTON BOWLS CLUB our Feature Act:
DREAMBOOGIE
As usual it is FREE ENTRY, and all are welcome to Flem-Ken Tuesdays' House of Blues!
6.30pm: Doors & Kitchen open for meals. Get down early to enjoy our Blues Menu (VIEW HERE) and whet your whistle on our Huge Craft Beer Selection (VIEW HERE)
8pm: Feature act: DREAMBOOGIE
9pm – 11pm: Blues Jam (Jammers to register by 8.30pm)
If you'd like to reserve a table, please phone or SMS 0425 776 613.
DREAMBOOGIE
Formed early in 2010, and named after vintage American jazz/ blues writer Langston Hughes' famed poem "Dream Boogie", Dreamboogie, are an act that is determined to create their own voice in Blues music. Bringing together Rebecca Davey (vocals), Sam Buckley (guitar), Connor O'Neill (bass) and Robert B. Dillon (drums), Dreamboogie have twice won the Melbourne Blues Appreciation Society (MBAS) annual Blues Challenge, which has sent them to Memphis USA to represent Australia and compete at the International Blues Challenge – in both 2012 and 2016.
Rebecca is a powerful vocalist and an entertaining performer with a commanding stage presence. Her ability to engage an audience with a unique lyric interpretation, demonstrates that the Blues is as much about storytelling, as it is about instrumental prowess.
Before joining the Dreamboogie lineup, Sam performed with Wollongong Blues vocalist and bass player, Anni Piper (who has since moved to the USA and carved out her own impressive Blues music career). Sam is one of the most talented young innovators on Blues guitar, bringing with him a truckload of new Blues riffs and licks.
Connor has a Bachelor Of Music from the University of Tasmania, and the bass guitar rarely leaves his grip. Before Dreamboogie, Connor played bass in variety of acts, and toured widely in Australia, South Africa and the Middle East. Connor's unique fretless bass playing style contributes to Dreamboogie's signature grooves.
With a wealth of experience as a musician and recording engineer, both in Australia and internationally, Robert ensures a steady hand in the drumming and percussion department. Robert is renown and respected stalwart of the Australian music industry, who has performed with some of Australia's leading artists, both on record and live.
In the 7 years that they have been performing together, Melbourne-based Dreamboogie have turned heads, opened ears, and made a significant impact on the Australian Blues scene – touring Nationally and performing regular shows at venues in Melbourne and throughout Victoria.