Tuesday Blues – JUSTIN YAP BAND
Event Date: Tuesday April 10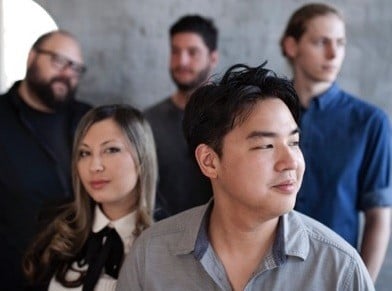 This Tuesday at MBAS 'HOUSE OF BLUES' @ FLEMINGTON BOWLS CLUB the feature act of the week is JUSTIN YAP BAND .
6.30pm: Doors & Kitchen open for meals.
8pm: Feature act: JUSTIN YAP BAND
9pm – 11pm: Blues Jam (Jammers to register by 8.30pm)
MBAS 'House of Blues' FREE every Tuesday night at FLEMINGTON BOWLS CLUB Cnr Smithfield & Racecourse Rds Flemington. Come down early and take advantage of our delicious Blues Menu and huge Craft Beer selection. We have plenty of seating, tables and parking. If you'd like to reserve a table, please phone or SMS 0425 776 613.
THE JUSTIN YAP BAND has gone from strength to strength since the release of their 2016 album "Let Love" – hitting No. 1 on the Australian Blues Charts, winning Group of the Year at the Australian Blues Music Awards and playing festivals and touring around the country. From Melbourne, Australia, the band has one foot planted firmly in the traditions of Soul, Funk, Blues and Jazz while the other moving forward creating new music branching from American roots music. The JYB is constantly exploring ideas through songwriting and improvising, culminating into "Let Love" – the band's most cohesive effort to date.
Justin Yap picked up the guitar when he was 12 years old. Growing up in Australia and Malaysia, he played his first gig at 14 in a Jazz club owned and run by legendary Malaysian Jazz-Funk guitarist Jose Thomas in Kuala Lumpur. Over the years,  Justin spent countless hours researching and learning anything he could find on whatever music would grab him, ranging from Blues to Soul to Jazz to Afro-Cuban music, all the while refining his playing style and tone. More recently Justin has shared the stage with some of Australia's biggest names in blues and roots music including the likes of Lloyd Spiegel, Jimi Hocking, Geoff Achison, good friend Jesse Valach and constantly striving for the next thing with the Justin Yap Band and as a musician.
The biggest contributing factor to the band's sound and musical identity are its members. Vocals are led by Nardia Brancatisano (Soul Chic, Nardia Rose Band) – a singer-songwriter loaded with powerful, raw and sultry vocals forged by the sounds of Gospel, Soul, Blues and Jazz from growing up singing in church and listening to her father's record collection. Nardia wields her vocal range with intensity and musical prowess, often blowing the roof off with a breathtaking delivery, making her the perfect match for the intensity of the band. Cameron Smith (drums) and Ben Wicks (bass) provide a combination of precision and attitude for the band's foundations. Building on that is Ollie Rolfe on Hammond organ and keys – the source for a lot of the group's musical ideas and pushing everyone to explore even further. The chemistry and energy between the five members culminate in the band feeling like family both on and off the stage.
Be sure to Like our Facebook Page HERE to keep up to date with all upcoming events at Flem-Ken House of Blues